Using The Grid
Let's start with the "not following back" module, which helps you to find who is not following you back!

"Don't show the profiles I've just visited within last X days" filter. When you start listing "Lost Focus" users, you can change our default of "7 days" if you want. The "Lost focus" menu gives you a list of accounts that are not following you.
The verified accounts are mostly owned by celebrities, companies or renowned internet people. Don't expect them to follow you back easily. Use the "Don't show Verified" filter to hide them on your "Lost Focus" list. You may also add them to the Whitelist to protect accidentally unfollows if you don't want to deal with the filter. The Whitelisted accounts don't show up on the grid unless you wanted it.
"Include Whitelisted" filter helps you to list whitelisted accounts, as mentioned before. We prefer making some cleanup operations on whitelisted accounts every once in a while.
"Show only Verified" filter works like the "Include Whitelisted" filter and helps you to list verified accounts on your list. If you're not happy with the Twitter feed of a celebrity, you always have your right to visit profiles and unfollow them.
Select some accounts and click the "Add selected to Whitelist" button to protect them.
To add selected accounts to a new Twitter list or an existing one, click on "Add selected to Twitter List" Click for the blog post about it with a video.
Blacklist almost works as same as the Whitelist, which protects you from following unwanted profiles accidentally.
The Grid only displays the necessary info about the accounts you're working on;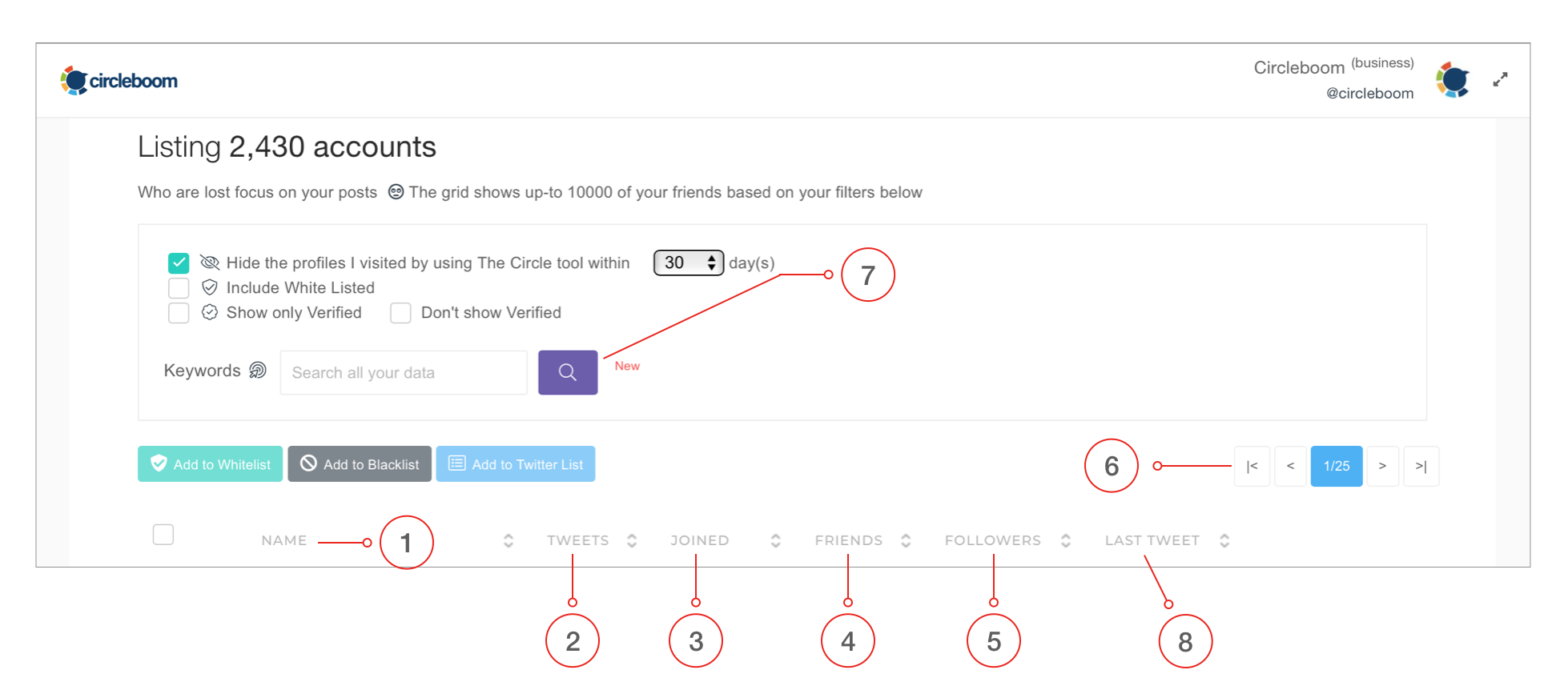 "Name" displays the profile name, the screen name (Twitter @ handle) and location info if it exists. You can order this column by clicking on it. It also opens a new tab of the Twitter profile of this user if you click on @ Twitter handle.
"Tweets" shows the Tweet count of the account. This number occasionally differs from the number shown on the Twitter profile page. Circleboom shows user public data from its caches, and this may result in some differences.
"Joined" shows you the account's age and creation date on Twitter. Some Circleboom users mention that they're using this to sort Twitter accounts by their account age and follow them accordingly.
"Friends" displays and sorts by friends count (How many users the account follows)
"Followers" displays and sorts by followers count (The account is followed by how many people)
Paging to help you browse the list. By default, the grid shows 100 items per page.
"The Grid" has its own "Grid Power Search." Just enter your search term into "Grid Power Search Textbox" located upper right corner of the grid. We filter out the search results to find what you want. The search happens as you type.
The "Last Tweet" date displays the last-known tweet date of Twitter accounts.
The Grid's default order is the last -known- Tweet date.