Troubleshooting failed Instagram posts and connection problems
There might be a couple of reasons why your Instagram posts scheduled by Circleboom Publish fail. Please review the possibilities explained below carefully.
Troubleshooting Instagram account connection problems
Wrong Account Type
The most common problem is that your Instagram account type is not suitable for automated posting services, due to Instagram API limitations.
Instagram offers two professional accounts; business accounts and creator accounts. If your account is an 'Instagram Professional Creator account' or 'Instagram Personal account,' you have to switch it to an 'Instagram Professional Business account.' And then reconnect your Instagram account to your Facebook page. Please follow the steps explained in our help article to convert your profile:
If you are unsure about your Instagram account type, here is how you can check it:
Circleboom Authorization in Facebook Business Integrations
Another common problem for failed Instagram posts occurs when you remove Circleboom App authorization in Facebook Business Integrations.
To check if you authorized Circleboom as business integration, please log in to your Facebook account and click on Settings & privacy > Settings on the upper-right corner of the page.
On the left bar, you need to find Business Integrations and click on it. Please make sure that Circleboom is listed among your active business integration.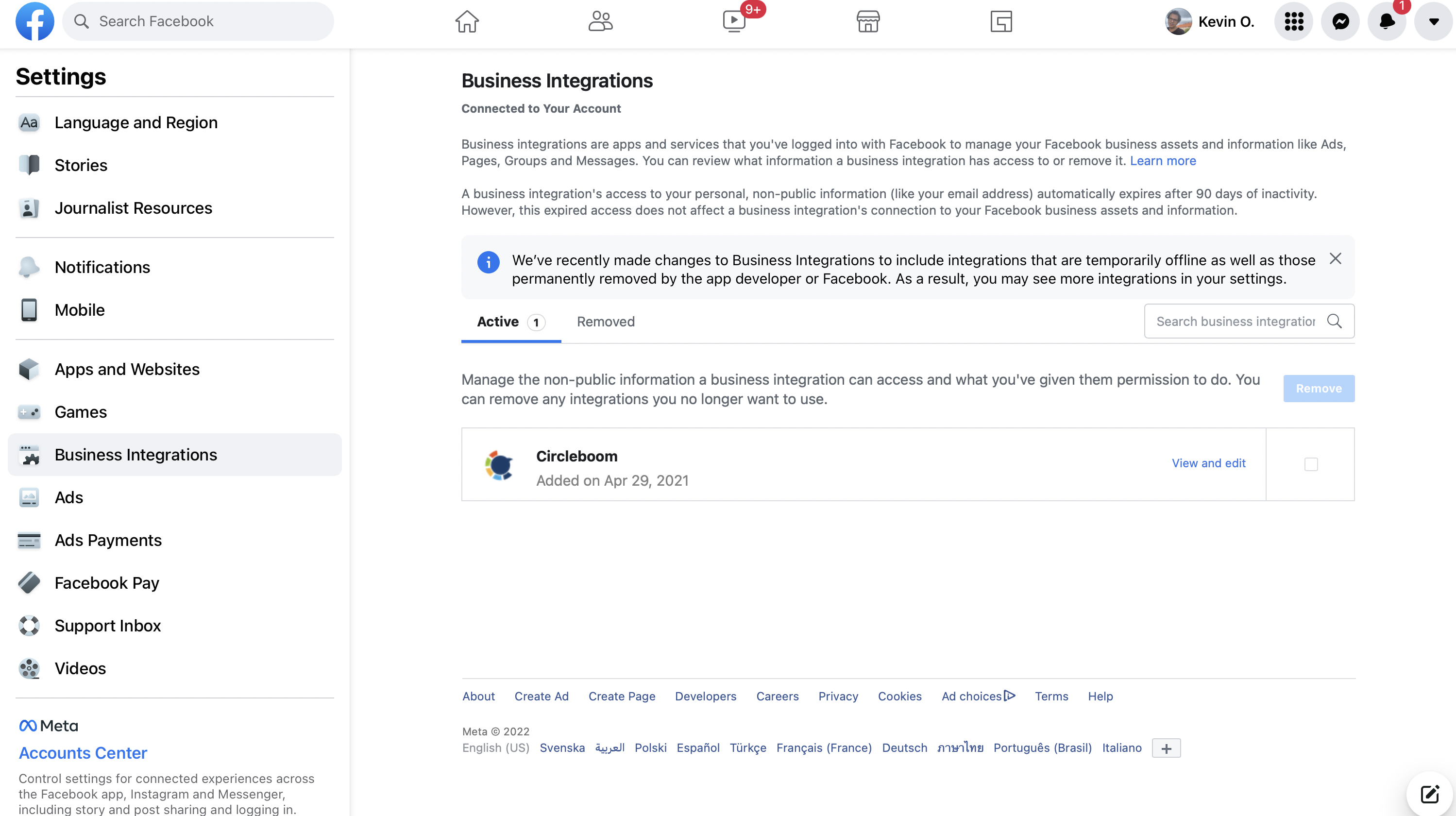 Please click on View and Edit button, and make sure that all sections are selected before saving your settings.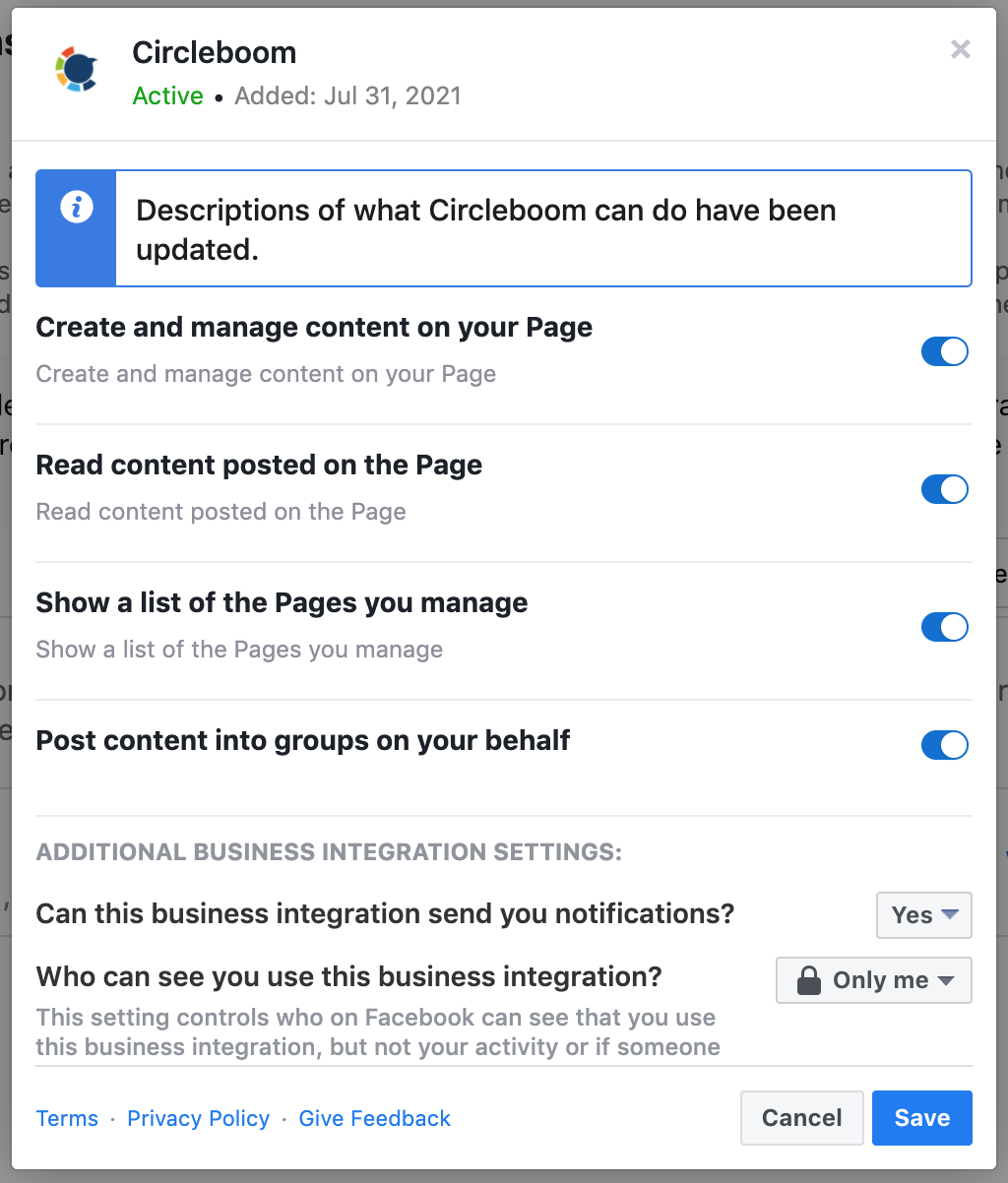 If you did not authorize the Circleboom app in Facebook Business Integrations yet, you can use Search business integration bar and add Circleboom to your active business integrations.
App Authorization only for selected Instagram accounts
Your Circleboom authorization might be given for only selected Instagram accounts, and you need to check if all your accounts are selected on Meta's authorization page.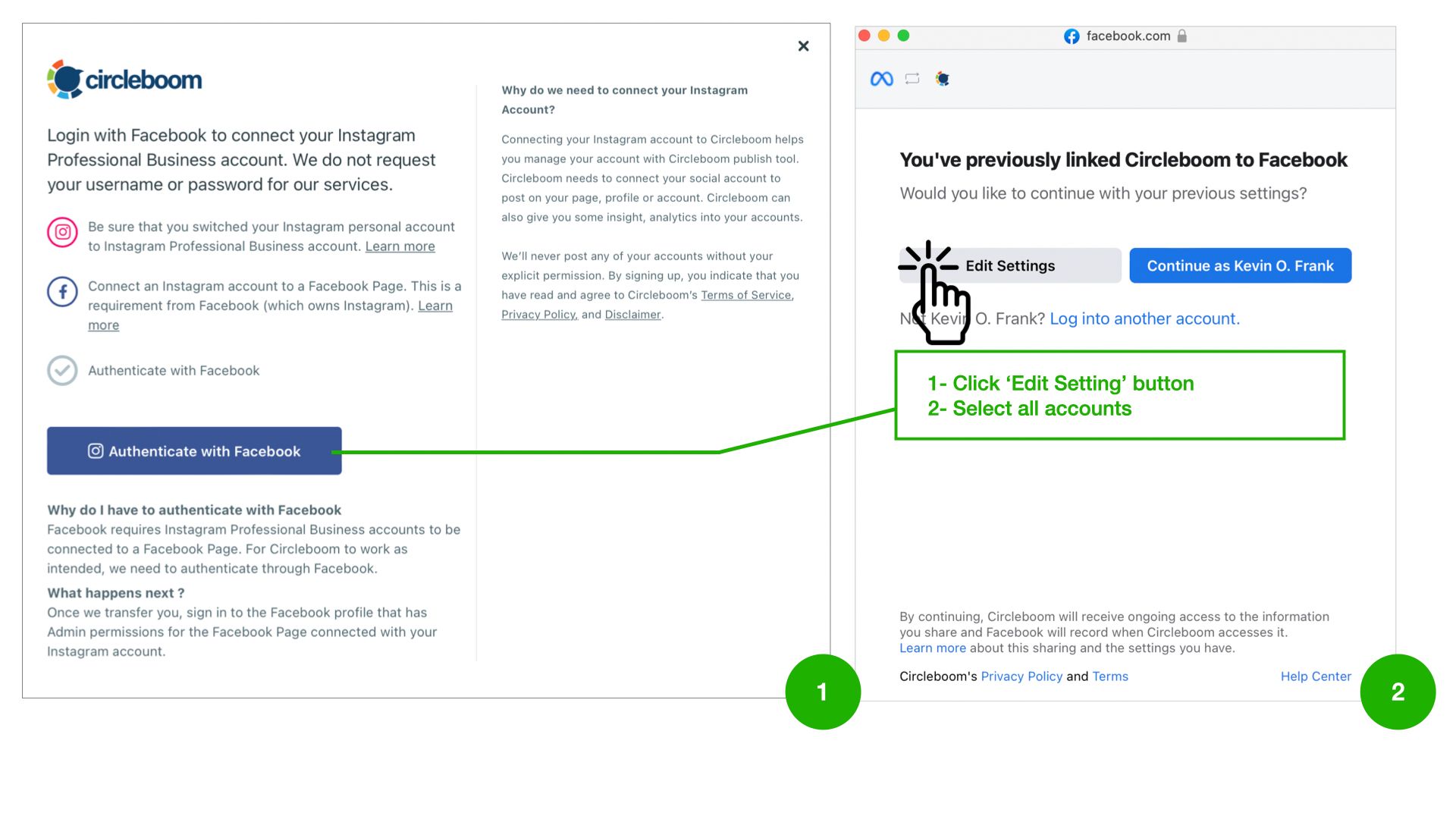 Please click on the edit button and make sure that all accounts (or at least the ones you want to manage on Circleboom) are selected.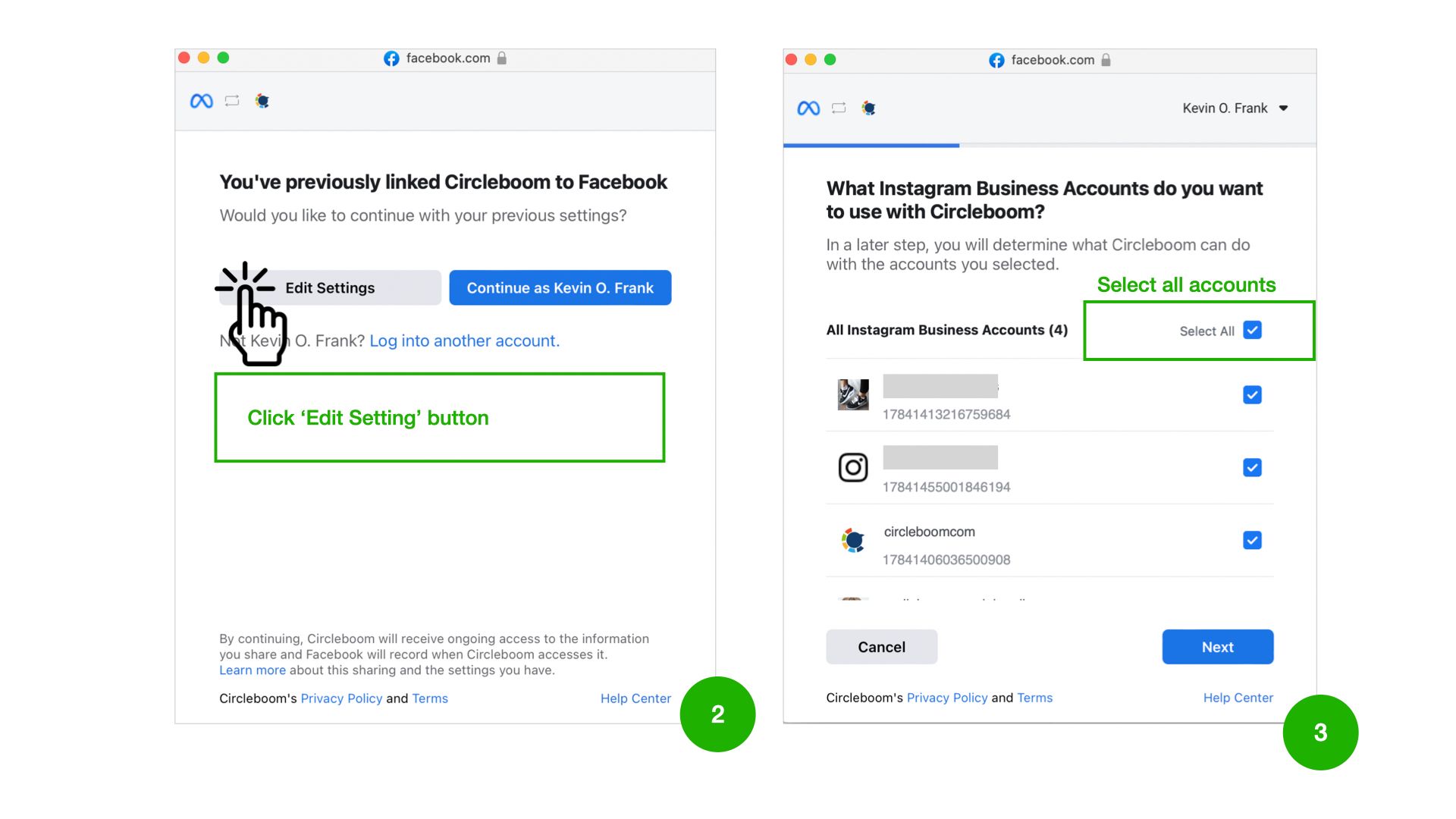 Provide additional settings required by Instagram
If you recently changed some of your Instagram settings, including account type, Meta might ask you to check for additional settings.
After logging in to your Facebook account, visit https://business.facebook.com/latest/settings/
Click ''business assets'' and find your Instagram account on the list.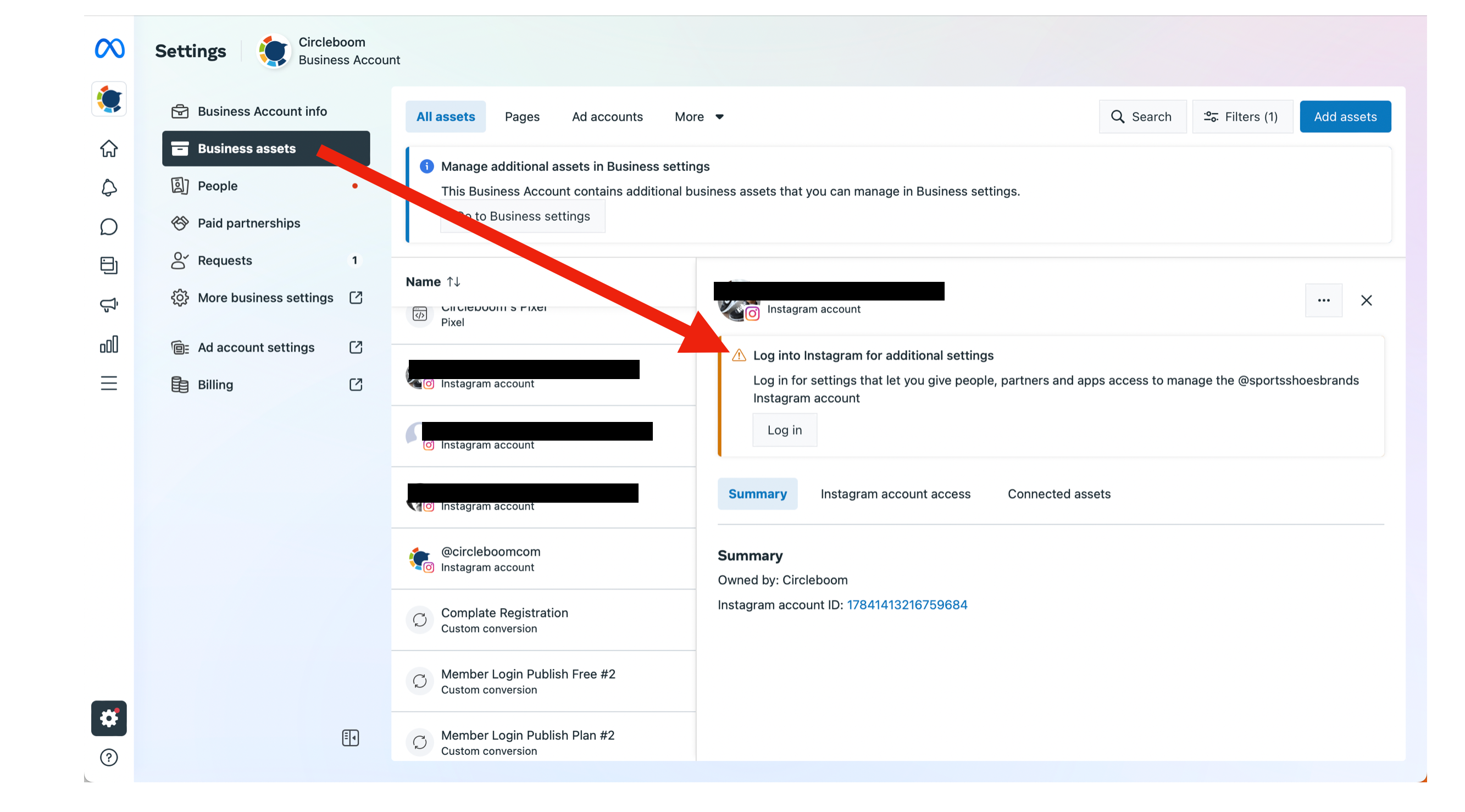 If you have such an alert as shown in the above-shared screen, you have to log in to your Instagram from your browser to complete your connection.
Review your account connection between Instagram and Facebook
If you changed your personal profile to a business account, you need to connect it to a Facebook page to be able to use scheduling services, even if you are not planning to post for the Facebook page.
Each time you switch from a personal profile to a professional one, you need to review your account connection to make sure that your Instagram business account is associated with a Facebook page.
Hands-on Video:
If you experience a problem related to account connection between Meta platforms, on Facebook page settings, you will also notice the reconnect screen:

This may also help to troubleshoot:
Log in to the same Facebook account you previously connected to your Instagram account.
Add your Facebook Page connected to your Instagram Account to Circleboom Publish first. After adding your Facebook page, try adding your Instagram account again.