Adding an Instagram Account
Step 1: Convert your Instagram Account to Business Professional Account
As you may know, Instagram has three account types called personal, creator and business. In order to manage your Instagram account on Circleboom Publish, you are required to have a business profile.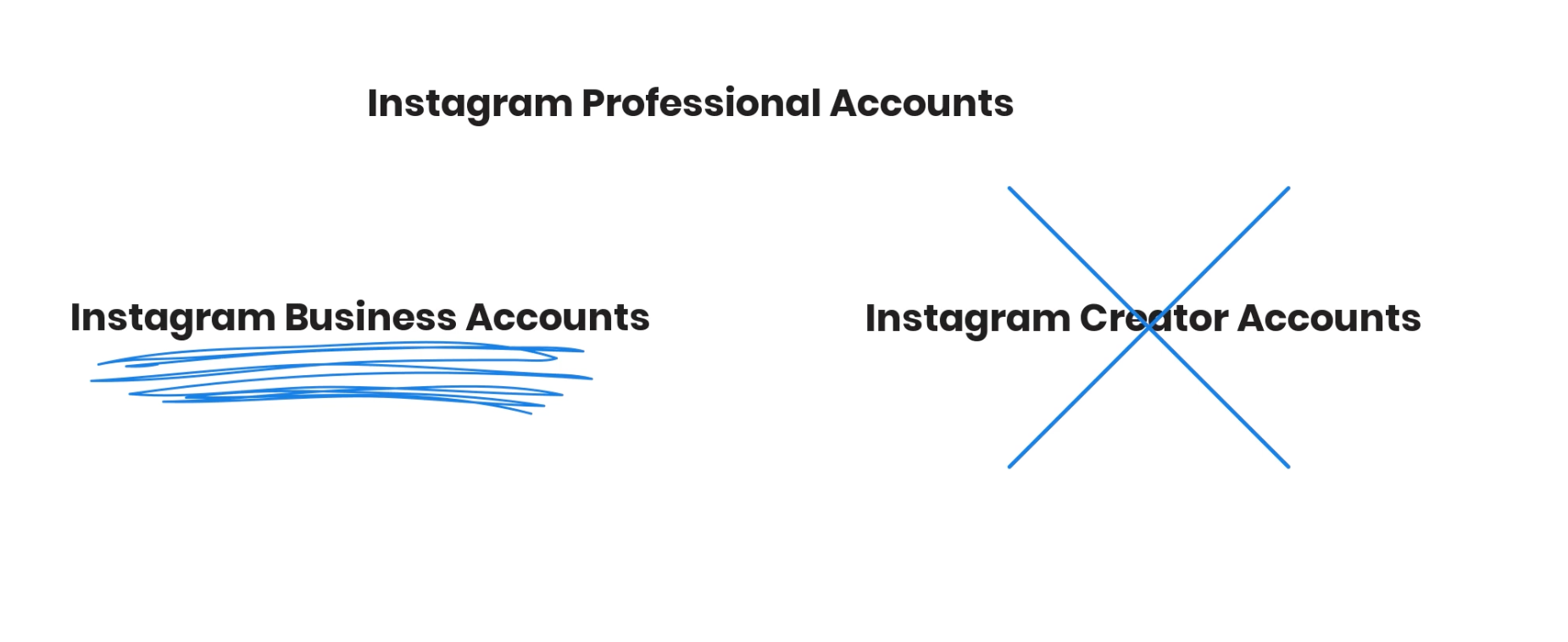 Don't worry if you have a personal or creator account, you can always switch to a business account just with a few clicks. To convert your account to the business one, please follow the guidelines on the link below:
Step 2: Connecting your Instagram Business Account to a Facebook Page
Before adding your IG account, there is another step to take. Due to the integrated system of Facebook and Instagram, it is necessary to connect your Instagram business profile with a Facebook Page, even if you are not planning to post for that FB page via Circleboom.
If your Instagram business account is not connected to any Facebook page, we kindly ask you to do it as explained in our help article.
Step 3: Adding your IG account to Circleboom Publish
As explained above, before connecting Circleboom Publish with your IG account, you should have already:
Converted your IG account to a business profile,
Connected your IG account to a Facebook Page.
Like any other social media account, you can start adding your IG account on the landing page of Circleboom Publish.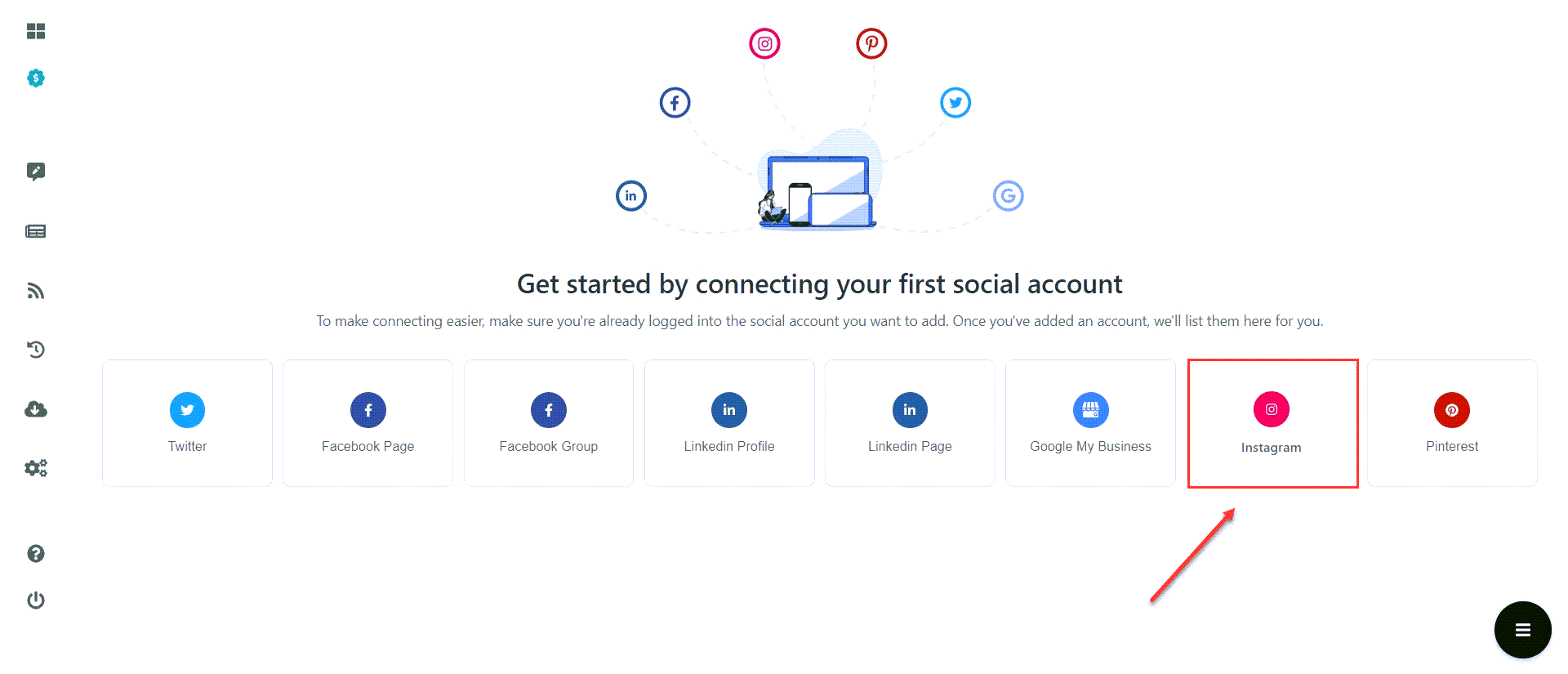 When you click on Instagram on the page shown above, a pop-up will appear to direct you to Authenticate with Facebook, which will help you to connect your Instagram account.
Facebook requires Instagram business accounts to be connected to a Facebook Page. For Circleboom to work as intended, we need to authenticate through Facebook.
2. After granting the app permission to Circleboom, you will be able to choose the IG account that you want to add (See the picture below). Click on Add to Circleboom after making your selection, and your account will be connected.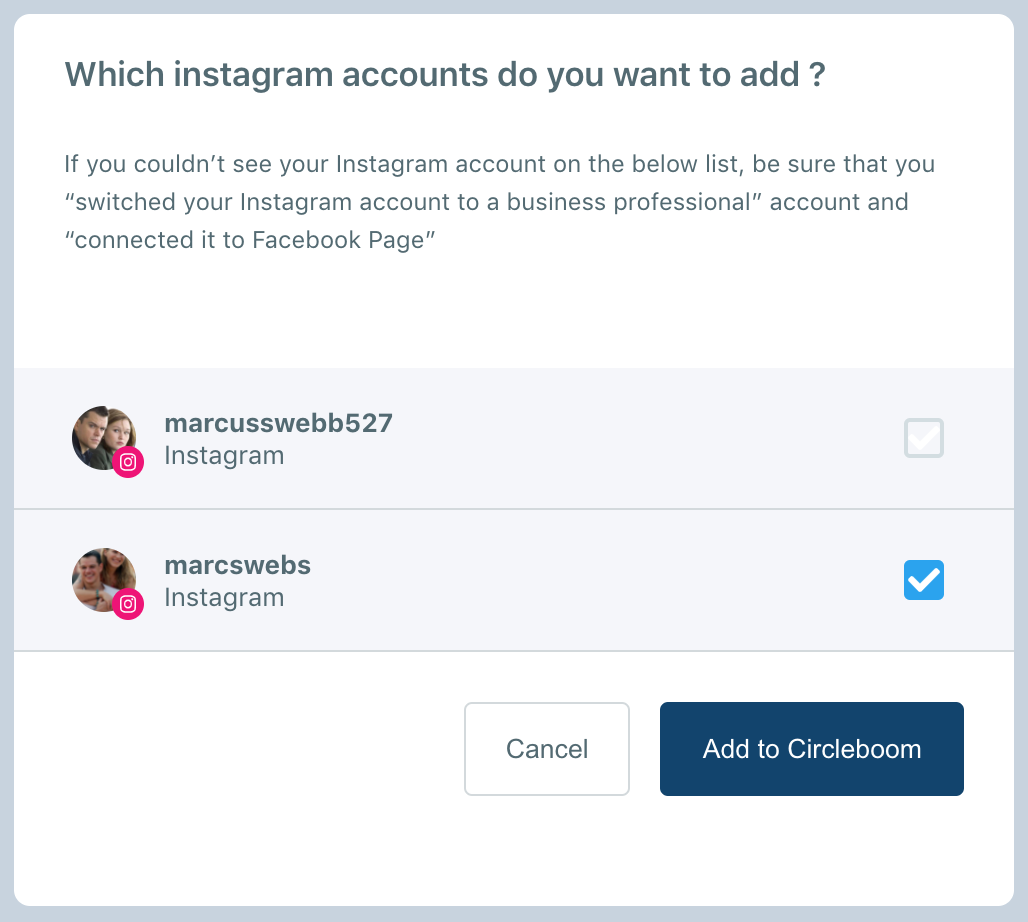 If the Instagram account that you want to add to Circleboom does not appear on the list, please check whether your IG account is converted to the business professional, and successfully connected to a Facebook Page.
Do you want to schedule your first Instagram posts? Watch our hands-on video: