Connecting Your Social Accounts
You can currently connect your Facebook, Twitter, Instagram, LinkedIn and Google Business accounts to Circleboom Publish.
Choose the right plan
The number of social media accounts you can connect to Circleboom Publish depends on the plan you're subscribed to. While you can manage your accounts from the other four platforms in all plans, you will need a paid subscription for Instagram account management. Circleboom offers several plans both for monthly and annual options.
Connect your accounts
When you signed up for Circleboom Publish and log in for the first time, we will direct you to connect your social accounts and give us permission. When the screen below appears on your browser, you can click on the type of account that you want to connect to Circleboom.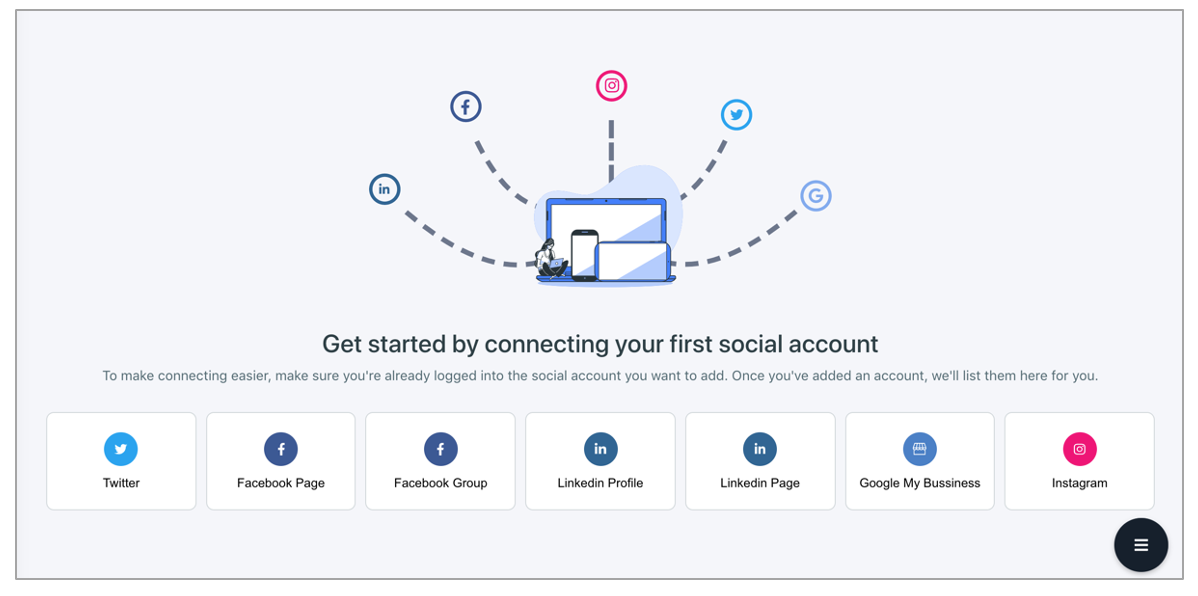 After you click on one of the options above, a pop-up button will come up, which contains a link to the social media platform as well as policy documents of Circleboom. The sign-in button will direct you to connect your accounts on the chosen platform and grant permission to Circleboom.
To make it clear, let's take a look at connecting your Twitter account. To manage your Twitter account on Circleboom, you can start connecting it with the "Sign in with Twitter" button.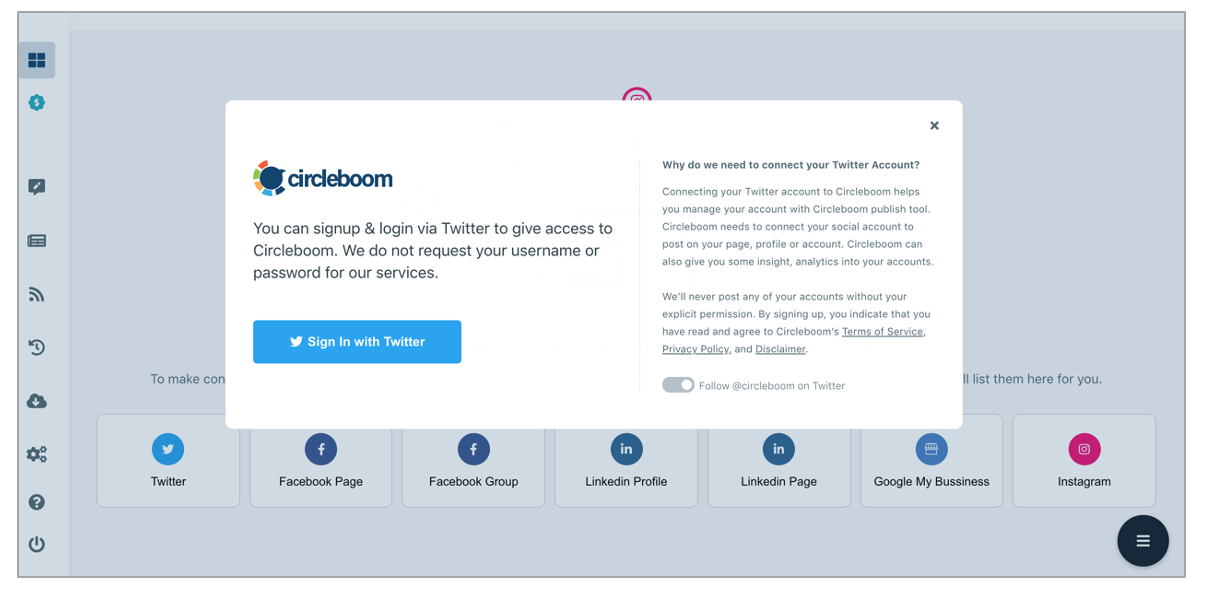 If you cannot see the pop-up above, please give it another try after disabling your AdBlocker and checking your pop-up settings. In rare instances, AdBlock extensions may prevent you to see this page.
The authentication process will be managed by Twitter's (or other platforms) authorization dialog, and you should click on "Authorize app" if you are connecting a new account to Circleboom. The app will be automatically connected to your Twitter account and you can now start enjoying Circleboom!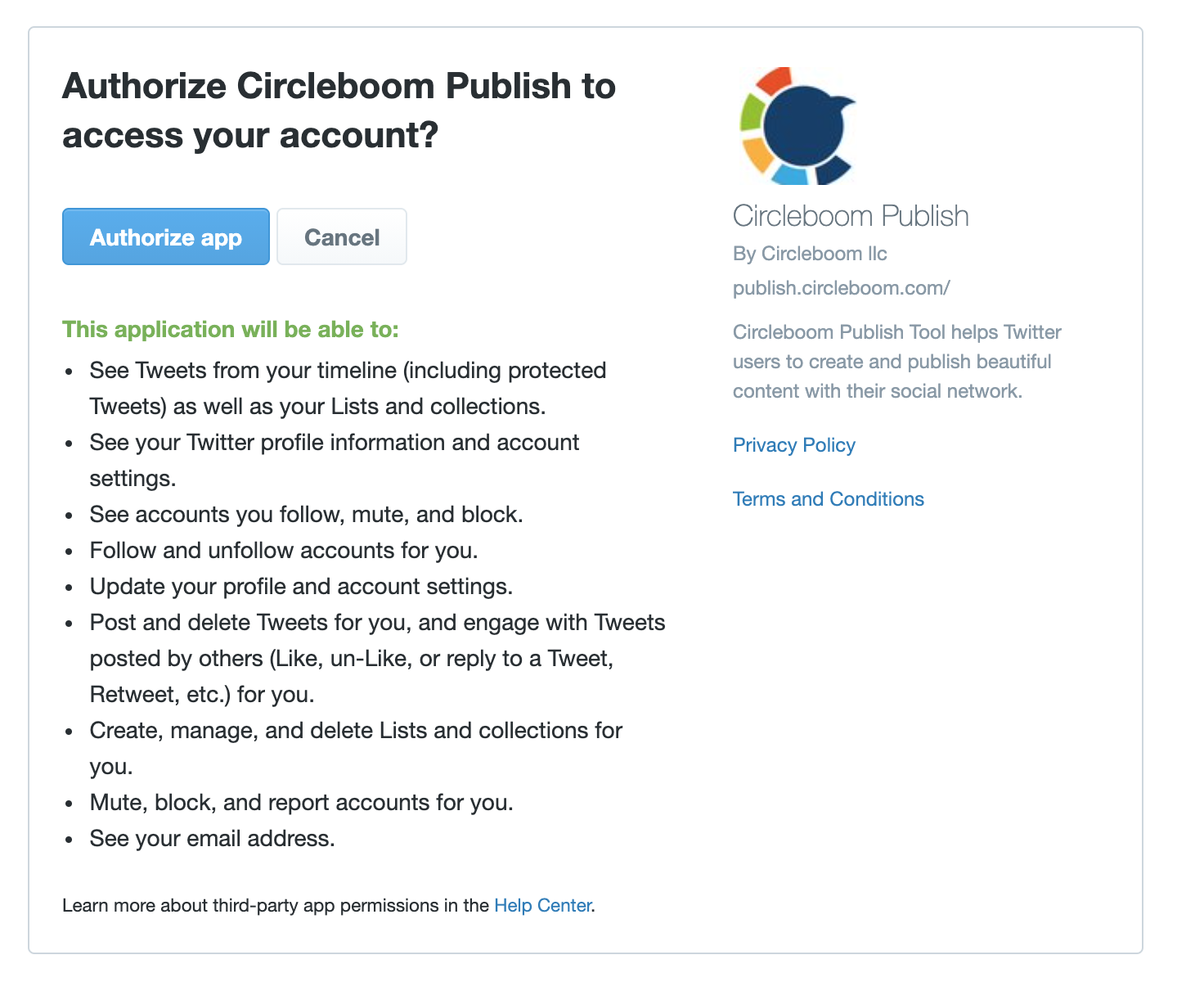 If you have more accounts to add, you can keep adding them either through the landing page of Circleboom Publish or via "Manage Social Media Accounts" under "Settings".
As some social media platforms might have some rules that require you to take additional steps, we have detailed guidelines on connecting your social accounts which you can see below: